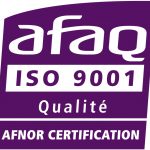 Concerned about ensuring customer satisfaction, we ensure continuous monitoring of your request. Thus we carry out a double control in order to validate the good progress of your study. Our ISO 9001 certification attests to quality management within our structure.
Located in the European capital and bordering Germany, our structure enjoys a strong international outlook. Thanks to a pool of international students and bilingual members, Europe Etudes is constantly expanding internationally by offering services in German, English and Spanish, but also in other languages.


\ Experience and expertise
Created in 1972, Europe Etudes is one of the pioneering Junior-Enterprises of the movement in France. This seniority has enabled us to cultivate our know-how, which has been strengthened by our strategic orientation committee composed of our former members.
Supervised by the National Confederation of Junior-Enterprises, our Junior is audited each year on all its processes and studies. Proactive and dynamic, we commit ourselves to contact you within 24 hours.


Our youth is also an asset because it allows you to benefit from work at the forefront of innovation. With a capacity for renewal and continuous improvement, our students apply the theoretical knowledge acquired and ensure that you have a modern and qualitative deliverable.

Europe Etudes – Students Run Company
School of Management Strasbourg 
61, avenue de la Forêt Noire 
67 085 STRASBOURG CEDEX FRANCE 
+33(0)3-68-85-86-71 
infos@europe-etudes.com